biography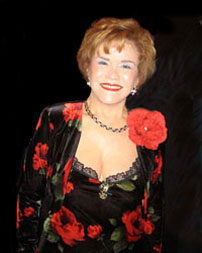 Titti Venturini was born in Parma, where she studied and obtained a degree in Architecture and Design.

A great friend and favorite pupil of sculptor Pinnuccio Sciola, Sardegna's most famous artist, she followed his courses at the Academia d'Arte in Sassari .

She showed her portraits and small dancing figures (dancers) in bronze, plaster and ceramics in the Gallerie of the Trianon Palace in Versailles, in the Hermitage Hotel in La Baule and in the show rooms of the CCIF (Italian Chamber of Commerce) in Paris, rue du Faubourg St-Honoré.

En 1997 she organised an important show in the Torrechiara Castle, near Parma. Then in May/September 2000 there was another show in the renovated headquarters of the CFM in Monaco.

Titti Venturini, between December 2001 and January 2002, has also shown her sculptures in the Salon Futur of the « Toit de la Grande Arche » in Paris, under the sponsorship of the French Minister of Culture.

Between December 1st, 2003 and January 30, 2004, she has shown her works in the Colonnato rooms of the Palazzo Sanvitale in Parma.

In March 2006 she exposed its works in the Atrium of the Casino of Monte Carlo under the High patronage of S.A.S. Prince Albert II de Monaco, who wrote the preface of the catalogue of the exposure.

In May and June 2006 she has exhibited in the Castle "Rocca Sanvitale" of Sala Baganza, near Parma.

In June 2007, exhibited in the foyer of the Teatro Regio di Parma, the bust of the renowned soprano Renata Tabaldi, his compatriot who recently passed away.

After several years of inactivity, and physical problems due to a car accident, has recently taken up sculpting, producing some of the busts of famous people.

She lives and works between Parma, Paris and Sardinia.